The recent passing of Heath Ledger really has saddened me.
I know that his upcoming performance in The Dark Knight (new Batman movie) is just an exceptional piece of art. The anticipation of this movie is extraordinary.
It will be out this coming summer and I feel it's going to be a life changing event for some. I know that sounds crazy - a movie that can change one's life - but when you think about an amazing artist, that dies before his prime, it's a great loss in this world.
He won't even see the final version.
That's sad.
It reminds me of Danny's passing. He had so much going for him. He was changing the world. But he's gone.
All too soon.
This tells me that life here on earth is a temporary holding ground to something much bigger than ourselves.
Live each day as if it were your last.
---

My husband drew this in memory of Heath Ledger.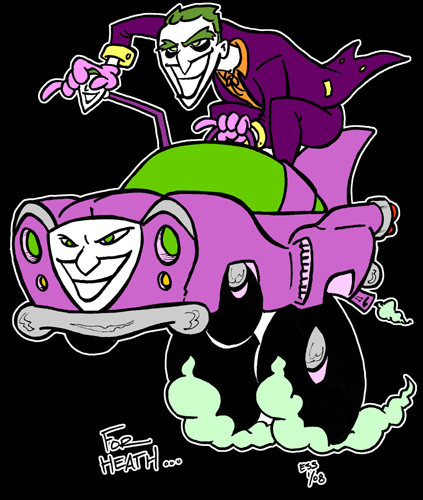 Here's the movie trailer of the upcoming Batman movie.